Holy crap! Can you believe I have had my business open for over a year and a half now! It seems unreal. It was such a challenge to get to opening day that I may have missed a few months! It's okay now though and we are plugging along like a normal, happy family. Everyone is finally talking to me without being scared that I will start hollering. Oh come on, I only holler occasionally.
I have people ask me all the time about my staff, so I thought I would introduce you to them! They are a great mix of backgrounds and personalities, which is vital for this business. If you didn't know, we are a corporate wellness management firm that manages programming and an onsite facility for a large manufacturing company.
We don't just sit around and work out all day. We produce multiple events yearly, from a golf tournament, 5K walks, weight loss challenges, we teach 20+ classes a week and we maintain a facility with 1000+ members. We are busy! And we LOVE it! We truly are a family and enjoy being at work. That makes a huge difference in our lives!
Meet my staff and see the signs I made for each one at our birthday party:
Front Desk Manager/Assistant Director
Hannah is my go to person. She pretty much does everything for our onsite facility. She is a super sweetheart and fits in perfectly in my environment. She has also just started studying for her group exercise certification. She is like a sponge and just watches and listens to everything I say. Which can be bad or good. Bringing her on has been one of my best decisions! She has recently completed her Piyo Live certification and started teaching regular classes. She is crazy smart and has started questioning my moves and ways. I love it! Let's just hope that she doesn't start cussing like me though!
Evan is awesome. He started with me years ago and is a hoot to have around. He is an instructor at several local universities and is my resident Biologist. He is the "knower of all things" and if you EVER need an answer - find Evan. He is also a great friend of mine and has talked me off several ledges before. He also is a fantastic cook! I have been known to lie and steal his leftovers. Also, do not go to his house if you are scared of snakes.
When I moved to the area 13 years ago, I started working at a facility and Folonda worked there. Years later, she started working for another company at Mercedes and we met again. Then - she asked me about a job. And here we are. She works the notorious night shift. The one that has swallowed and broken every other person that has tried it! Even the college kids that feel they are invincible and only work one day a week. They cave the fastest! Folonda asked for that shift and would leave this job and walk next door to her full time job. She then went full time for me and ALSO still works her other full time job! We have bets when she actually sleeps and no one can figure it out. She is the sweetest person alive, even at 3 am. She rarely complains too! She has always believed in me and I will always believe in her!
Front Desk, Running Coach
Here is an actual picture of my relationship with Thomas.
Thomas is one of my favorites! He rides bikes, runs a million miles a year, works for MBUSI, lives 9 hours away and does a zillion other things every.single.day, so he is a WILD SOUL. He's like my male version. I never really know where he is. He's somewhere, living his best life. He started as a running coach and now works the front desk when he needs a nap. If you need to run or a good conversation, call Thomas.
In this business, we often call on favors. Trust me, we keep track of our owed favors. Two different people called and said they had someone to work for me. It was Brooks. I said no both times. Both kept telling me that I would love him. I gave in and fine, I love him. He was actually the first employee to work for MB Fitness! I even paid him out of my pocket for 2 months. He is an engineering student at The University of Alabama and is a great guy. He is remarkably smart and will do anything to help out. Like the time I asked that he take the diameter of a pink ball and see how many I would need to fit in a pool. He did it very enthusiastically.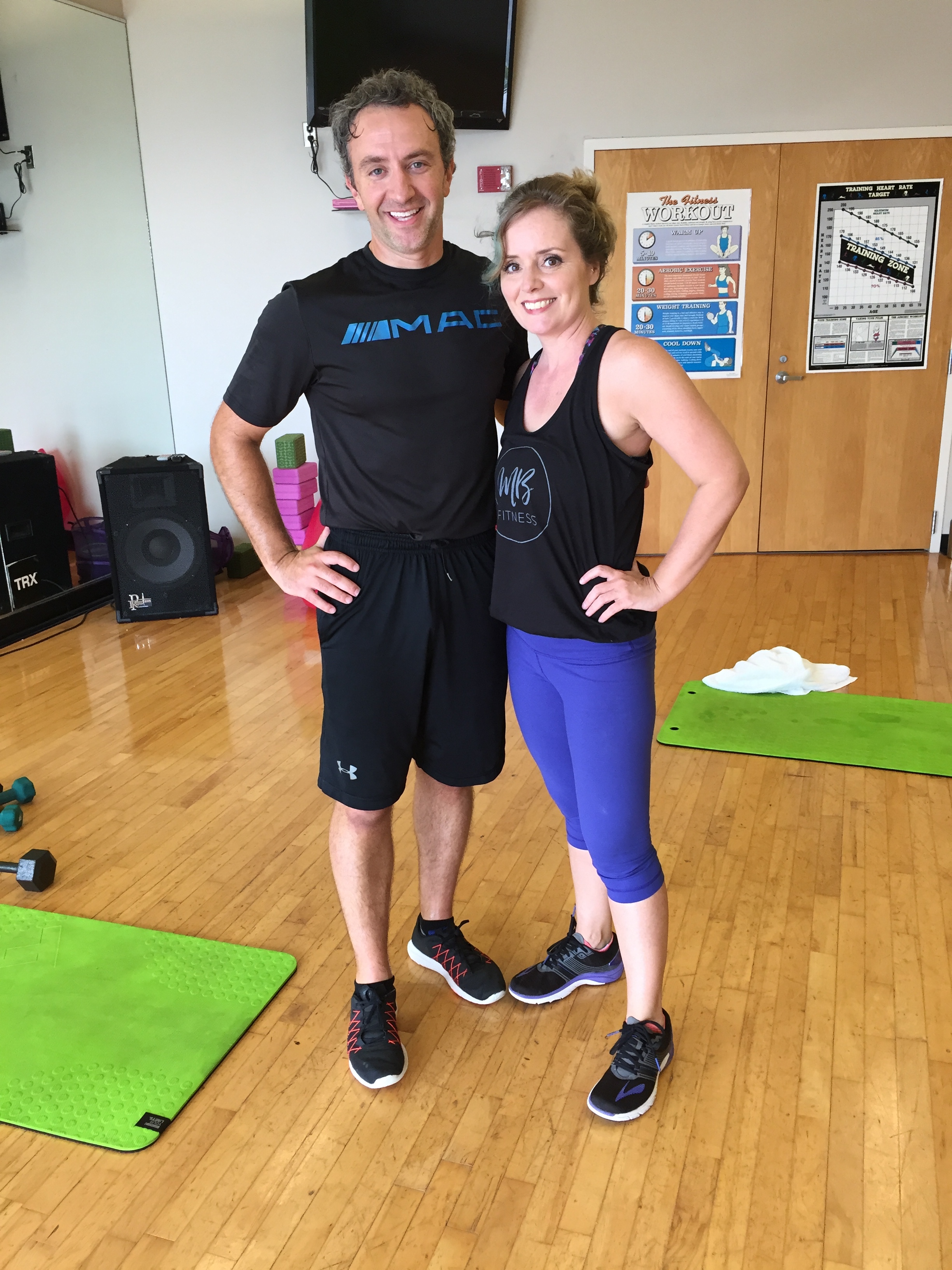 Rick started coming to classes years ago and quickly became an instructor. He works for MBUSI as head legal counsel and has a huge family, but still manages to make me a priority. He truly is one of my favorite people. I have sat across from him numerous times with personal and business issues and he has always helped me. He was one of my biggest supporters here at Mercedes and for bringing MB Fitness onsite. He is a wonderful person, father, attorney, friend and staff member. I will always succeed with Rick beside me.


Darla is freaking adorable. I met her on her first day of kindergarten when I dropped off my daughter, Annabelle. They were fast friends and have managed to stay in touch after 6 years and different schools. I have always called her my other daughter and when she wanted a summer job, I said sure. She is a hard worker and super sweet. We have also found out that she is amazing at event planning! A huge perk in this business!
Shane is a team member here at MBUSI and was interested in working for some extra hours at the facility. He is adorable and always ready to work. He loves to work out, play golf and enjoys time with his son (who accompanies him sometimes to work). I love having Mercedes staff work for me because they are dedicated and always professional. That is Shane!
Yoga and Group Fitness Instructor
Josh started coming to my yoga classes years ago and he would always ask me the most detailed questions. I would answer him and just give him a look. He would smile and walk away. After about 2 million questions, I finally said - "Why don't you look into getting certified?" He just smiled and said he might do that. And he did. Twice. We began teaching together and he has now taken over the yoga classes here at the MAC. He is a great guy and a huge asset! He also works for MBUSI full time and has two beautiful daughters.
Group Fitness Instructor, Personal Trainer
What can I say about Chad? He is the guy that I said I would NEVER hire and here we are. He works for MBUSI full time and was a member with a sole mission in life to annoy me. Here we are. He is very passionate and an excellent instructor. I do have to walk by and thump him on the head occasionally but that's okay. He also LOVES to spend my money on the latest cool toys for the facility. He has an adorable family with two small daughters and still manages to work out constantly. He is an avid runner, Kettlebell trainer and weight lifter.
Website Design, Writer and Front Desk
Yep, Annabelle is my adorable oldest child. She does a lot in the business. She works the front desk some but mostly works behind the scenes. She is my content writer, website design and graphic designer. Yep, she does all that and WAY better than most. She attends the Alabama School of Fine Arts and will graduate this spring. She is the one that will discuss the most random things and research things that I'm sure she shouldn't be. I'm sure her plans are to overthrow me at some point and take over completely. I'm actually fine with that.
Jeff teaches all kinds of classes for me! He began as a member and started teaching a few of our Beachbody programs. He works for MBUSI full time, loves to run and bike and enjoys teaching. He is also a big softball dad and seems to travel to Disney at least 100 times a year. We share a love of cats, so I will randomly get a video of his babies playing!
Running Coach and Non Staffer
Kyle is the only staff member that is not a staff member. We treat him like staff and he gets all the perks of being a staff member, but no one knows why. Joking, I made him a running coach so he could have a "title." Kyle helps run our running program and the gear up towards our marathon each year. He also runs our internal systems for MBUSI. He works full time for MBUSI, loves power lifting, running and has a large family that he provides for. He is a sweet guy that also enjoys spending my money. You rarely see him without Chad somewhere near.
Eric Watts - Personal Trainer
Eric is a personal trainer and group fitness instructor. We rarely see each other with his busy work schedule. He works for MBUSI full time as well. He is a fantastic trainer and loves to run obstacle races in his spare time. He has a big family and somehow manages to juggle his crazy schedule too!
Jessica Wantman - Front desk
Jess started as my intern several semesters back and decided to stay on. She is freaking adorable! She immediately fell in love with group fitness and is currently studying for her license. She is my Piyo lover and a whiz at music and choreography. She is a student at The University of Alabama and I hope that she stays on for awhile!
Josh Kimberly - front desk
Josh is my little energetic, happy guy. He also works full time at MBUSI and occasionally works the front desk for me. He met his beautiful wife while working out at the MAC! I see her more now than him! Come see me JOSH. Like tomorrow.
abbey payne - nutrition intern
Abbey is my newest intern. She is freaking adorable. She is specializing in nutrition and has been a huge asset in my nutrition business. She is like a sponge and sits down and soaks up everything I say. I look forward to seeing where she takes herself in the field! She already teaches group fitness classes and is hoping to gain her personal training license soon.
Gracie Springer - virtual assistant
Gracie is my Virtual Assistant and does things in about a tenth of the time that it takes me. She has literally finished things before I even completed my sentence before. She is a fantastic with research too. She is luckily staying close for college!
Adrienne avery - Group fitness instructor
I met Adrienne when I contracted with a local school system to train their teachers after school. We immediately became friends and she is one of the most fantastic humans alive. She has helped me through some of my darkest and most desperate times. Me and my girls slept on her floor for months when we didn't have a place to go! It never phased her and she was always happy to have us. She is one of the facilities favorite instructors too. She can teach most anything but her specialty is TRX. She is currently a stay at home mom to two little girls and seemed fine when I told her that she couldn't teach anymore unless she brought the babies for me to hold. So, most Fridays I get some baby time. I love it!
So, there is my wonderful team! It has been a challenge for me but I wouldn't change a thing. Especially with this team above. I keep pushing for my girls and this team! I may work wild hours way past bedtime but that's ok. It's a small journey and I am proud to be on it. Thanks for all your support and dedication! As always, if you need me or one of the team members above - let me know!
Happy New Year and we wish you much success in your health and fitness goals!
Much Love,
Molly